The 2012-13 Premier League season is shaping up to be spectacular, but who are the players who have made it so?
Manchester United and Manchester City seem destined to battle it out for the title yet again. Chelsea, Arsenal, Tottenham Hotspur, Liverpool, Everton and West Brom are all vying for those coveted Champions League places. Then we have the likes of Swansea City and Norwich City who have entertained their way into everybody's hearts with their contrasting blends of football.
Behind it all are the players.
Who have been the very best Premier League players this term?
Who deserves their place in a Premier League XI?
Does Michu warrant a starting berth over Wayne Rooney? Has Luis Suarez been the best striker in the league? And where have all the Arsenal players gone?
Read on as Bleacher Report picks the Premier League's Best XI so far...
Honourable Mentions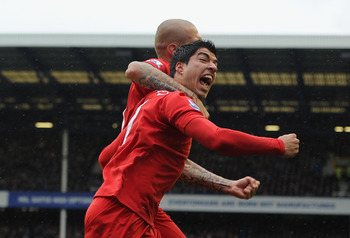 As always there are more than a few players who failed to make the cut.
Some didn't make it because there have been better players this season, some didn't make it because they have been inconsistent, and some didn't make it because they just couldn't fit into the system and formation.
Here are a few honourable mentions that would grace any Premier League XI this season.
Goalkeeper
Jussi Jaaskelainen (West Ham):
The Hammers' 'keeper has been in fine form this term, making an impressive 78 saves from 18 matches whilst keeping six clean sheets.
Petr Cech (Chelsea):
This season has been something of a return to form for the giant Czech goalkeeper. Despite the Blues' defensive frailties he has kept seven clean sheets and has featured in every single Premier League game.
Defenders
Branislav Ivanovic (Chelsea):
The Blues defender is enjoying his best-ever season and much of that is down to his move to right-back. From here the Serbian defender has contributed four goals and seven assists to join his seven clean sheets.
Glen Johnson (Liverpool):
Like Ivanovic, Johnson's best contributions have been in the opposition half, where he has one Premier League goal and three assists. However, his overall good play means he merits an honourable mention at the very least.
Jan Vertonghen (Tottenham Hotspur):
Vertonghen has slotted right into the Spurs defence like a veteran. Whether he is deployed at left-back or centre-half, the Belgian defender has been one of the Premier League's most outstanding players.
Patrice Evra (Manchester United):
From a position where many were questioning his worth, Evra has enjoyed his most productive season in years. Scoring three goals, captaining the side and commanding the defence, the French star could very well be in the final XI come the season's end.
Ciaran Clark (Aston Villa):
The 23-year-old Irish international has endured a trial by fire for Villa this season but has come out of it with a growing reputation. Comfortable playing numerous formations or styles, Clark has a big future ahead.
Midfielders
Gareth Bale (Tottenham Hotspur):
There is no doubt about it: the one Premier League player capable of reaching the heights of
Cristiano Ronaldo
and Lionel Messi is none other than Bale. Once again he has been the epicentre of all that is good about Spurs and continues to shine.
Yaya Toure (Manchester City):
It says much about Yaya Toure that this has been his worst season so far and he is still one of the league's best players, by far.
Anthony Pilkington (Norwich City):
If Pilkington can keep his early-season form up, he has a great future in the game. Comfortable on either foot and on either wing, he is almost unique in the Premier League.
Steven Pienaar (Everton):
Ever wondered why the Toffees are doing so well this season? Think no further than their playmaker supreme Steven Pienaar.
Mikel Arteta (Arsenal):
The Spaniard has been one of the Gunners' best players by far this term. From his deep-lying position in midfield he protects the defence and initiates most of their forward forays.
Steven Gerrard (Liverpool):
No doubt about it, Gerrard has lost a yard of pace and is no longer the huge threat he once was. However, he still controls midfield with a vice-like grip and has scored four goals while contributing seven assists. Even in his downward slide he is more effective than most midfielders in the league.
Forwards
Luis Suarez (Liverpool):
The Uruguayan striker is in the form of his life and has scored 11 goals in 17 matches for the Reds. He is the centre of their universe, and despite a recent win without him, one shudders to think what would happen to them if he was lost to injury or sold.
Carlos Tevez (Manchester City):
Tevez started the season on fire with three goals in his first three games. Fourteen games later and that total sits at seven, but his contribution outside the box has been nothing less than stellar.
Demba Ba (Newcastle United):
It says much about how important Ba is to the Magpies' cause when you realise that he has scored 11 of their 20 goals this season.
Read more of this news here